The Kansas Promise Scholarship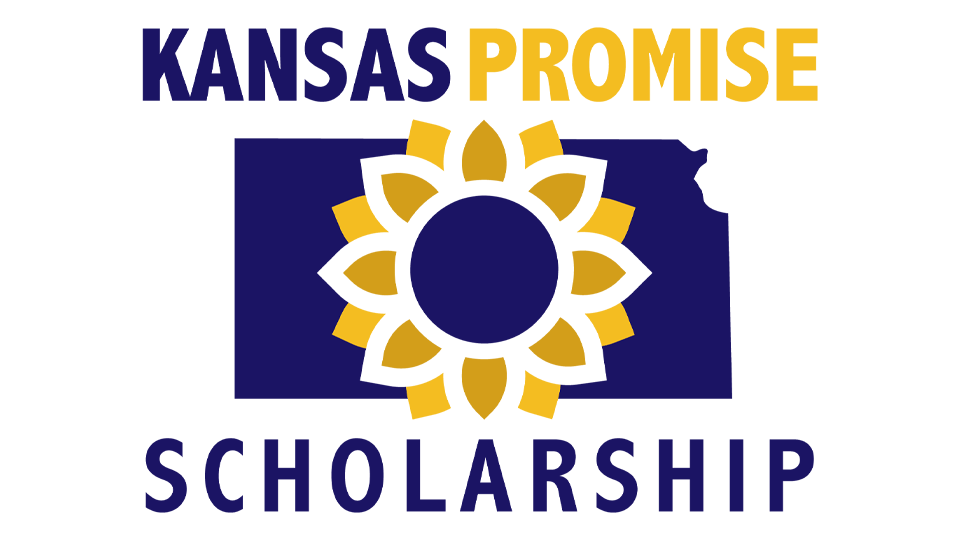 About
This scholarship is a last dollar scholarship, which means that a student may receive a scholarship in the amount of aggregate tuition, required fees, books and materials minus all other financial aid (including grants and scholarships) that does not require repayment.
For more information about the Kansas Promise Scholarship visit the Kansas Board of Regents
Requirements to Eligible
Be a United States citizen, AND
Be a Kansas resident, AND
Have a family household income of:

$100,000 or less for a family of one or two
$150,000 or less for a family of three
or for household sizes above three, a household income that is equal to or less than the family of three amount plus $4,800 for each additional family member. AND

Have graduated from a Kansas public or private high school within the preceding 12 months or have received a GED or other high school equivalency credential within the preceding 12 months, OR
Have been a Kansas resident for the preceding three consecutive years, OR
Be a dependent child of a military servicemember who is stationed in another state and, within the preceding 12 months, have graduated from an out-of-state high school or obtained a GED or other high school equivalency credential, OR
Have been in the custody of the secretary of children and families at any time when enrolled in and attending any of the grades 9-12 AND NOT be eligible for assistance under the Kansas Foster Child Educational Assistance Act.
* Students who first applied for and entered a Promise Scholarship Agreement for Summer 2021, Fall 2021, or Spring 2022 shall continue to be eligible to renew that Scholarship in accordance with the terms of their existing Agreement.
How to Apply
Request official high school transcript to be sent to the KCKCC Registrar's Office.
Complete the 2021-2022 FAFSA at www.fafsa.gov.

This step is required even if you do not receive federal aid. Be sure to list KCKCC on your FAFSA using our Federal School Code: 001925.

Complete the Kansas Promise Application on-line at https://sfa.kansasregents.org/login.jsp
Check your financial aid file on Self Service under "My Financial Aid" to make sure your file is complete.
Meet with a Student Success Advisor to enroll in at least six (6) or more credit hours. (Only courses that are required for the selected program of study will be funded. Developmental courses are not funded by the KS Promise Program.) Make an appointment at advising@kckcc.edu or 913-288-7696.
Enter into a Kansas Promise Scholarship Agreement with the Kansas Board or Regents by which you agree to live and work in Kansas for a minimum of two consecutive years following successful completion of your program; AND
Complete and submit the Kansas Promise Scholarship Renewal application [and the FAFSA] for any academic year(s) following the initial award for which you wish to continue receiving the Promise Scholarship for your Promise-Eligible Program; AND
Obtain authorization from the Student Financial Aid Office to charge required books and supplies at the KCKCC Bookstore.
Maintain satisfactory academic progress in the courses and successfully complete the Promise-eligible program for which you received the Kansas Promise Scholarship within 36 months from your first Promise Act class start.
Additional Info
You do not have to be eligible for a Pell Grant or accept student loans or work study to receive the Kansas Promise Scholarship. You may be enrolled either part-time (minimum of 6 hours in the fall, summer or spring semester) or full-time (minimum of 12 hours in the fall, summer or spring semester) but you must complete your program of study within 36 months from the start of your first class for which you are first awarded the Kansas Promise Scholarship.
It is very important to understand that to receive a Kansas Promise Scholarship you will be required to sign an Agreement that you will successfully complete the program within 36 months and that you will live and work in the State of Kansas for two consecutive years following the successful completion of your program of study.
Failure to satisfy the program completion, Kansas residency, OR Kansas work obligations will result in your having to repay the amount of the scholarship assistance that you received plus interest and collection costs, which can include attorneys' fees. The interest is at the current rate of interest of the federal PLUS loan (Parent Loan) at the time the first course in the program for which you are awarded the scholarship begins. The PLUS interest rate is 7.54% beginning July 1, 2022 through June 30, 2023.